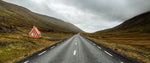 In May 2019, the Piloti team took another unforgettable road trip along Iceland's famous Ring Road. While weather restrictions prevented us from making the full 828-mile journey around the country's perimeter, we were nonetheless able to explore enormous waterfalls, sprawling black sand beaches, and beautifully scenic driving routes between the country's capital city of Reykjavík, to its coastal town of Vik.
We began our adventure by flying into Keflavík International Airport, arriving just after midnight, only to find that it was still bright outside. We quickly learned that one of the benefits of exploring Iceland in the summer is that the days are extremely long, so you can get the most out of each day! Our next step was to pick up our trusty Renault Megane Sport Tourer rental, and make the short trip to Reykjavík, where we loaded up on groceries, then spent our first night.
Not wanting to waste a moment in Iceland, we woke up early on our first day, planning to take what we thought would be a short detour to the Golden Circle (it wasn't - we spent a full 24 hours).
The Golden Circle is a popular tourist route, made up of three attractions - Þingvellir (Thingvellar) National Park, the Geysir geothermal area, and the Gullfoss waterfall. Our first stop to Þingvellir National Park was only a 45 minute drive outside of Reykjavík. Þingvellir National Park is a must-see for two reasons - it's geographically unique, situated between two tectonic plates, and it's rich in history. In 930 AD, the world's first democratically elected parliament that still remains function was formed right here by Vikings. While it would be easy to spend a full day hiking at Þingvellir National Park, we moved on after a couple of hours to Geysir - home to the famous Strokkur hot spring that erupts jets of boiling water from 65 to 130 ft high - and finally, to Gullfoss, a two stage waterfall spawning from the Langjökull glacier.
‍