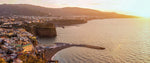 At Piloti, we're always looking to hit the road for our next adventure. In February, we teamed up with avid travelers Alex and Jo for an insider's guide into their favorite sights and spots along the beautiful Amalfi Coast. It was a little colder than we were expecting (some days dipping below 10°C) but it was worth it for clear roads!

We began our adventure in Sorrento – a beautiful seaside city, known for its plunging cliffs and plentiful citrus fruit groves (every so often, a strong breeze would come up that would have us dodging a lemon or two!). It probably comes as no surprise that Sorrento is the birthplace of Limoncello, a world-famous lemon liqueur that makes an excellent souvenir for those back home. This resort town is an easy, one-hour drive straight down the Autostrada from Naples Airport, after picking up your rental car. Or, if you'd like a more classic experience like we had, hire an original Alfa Romeo from Sergio at Spider Lifestyle – you won't be disappointed!

The next morning, we woke up bright and early to begin our journey along the Amalfi Coast Highway.
Beginning with a series of gentle curves paved into the side of a massive cliff-face, the drive becomes increasingly more exhilarating, to include sharp bends, hairpins and tunnels – but never fear, there are plenty of places to pull off and park, where you can take pictures and enjoy the view.