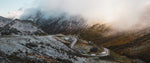 In October 2019, the Piloti crew (and our Piloti Team member, Tobias Henreich: @tobiashenreich) took an unforgettable road trip through Switzerland, from the city of Zurich to the small, mountainous town of Andermatt. Located in the heart of Switzerland's mountain passes, Andermatt is a famous haven for drivers, and served as our home base the for five incredible days, as we explored some of the most exhilarating roads in the world.
‍

‍
After flying into Zurich, our first order of business was to check in on our rental cars – a Porsche Cayenne Turbo Coupe with yellow calipers, and the show-stealing GT2 RS. We decided to have them delivered directly to our hotel in Andermatt to save mileage and instead elected to make the first leg of our journey in two economy cars.

We quickly learned that Google Maps struggled with the roads out of Zurich, but after a few double backs, we were well on our way to Andermatt (for the return journey, we used the navigation system in the Cayenne, which was much easier to follow!).
The journey to Andermatt was uneventful but beautiful – filled with breathtaking sights along the way, like Lake Zug – and a series of thrilling switchbacks as we made our way up the mountain side to the village of Andermatt. After checking in to our hotel, the Radisson Blu (which has one of the best breakfast buffets we've ever seen!), we realized that we took a chance visiting Andermatt in October. October is in between the summer and winter peak seasons, so there was little traffic, but be aware that the weather is unpredictable this time of year and can result in road closures.